I am such a big fan of Afternoon Tea! I actually believe that this is one of the best inventions, the Brits have ever made! Being Danish I thought, that Afternoon Tea was just about drinking tea (so of course I was a bit surprised, when I discovered the prices for a cup of tea) But Afternoon Tea is so much more! It is freshly brewed tea of all kinds and flavours and the best part… lots and lots of delicious finger sandwiches, scones and pastries
Brown's Hotel in Mayfair
There are plenty of places to choose from, if you are looking for a lovely Afternoon Tea experience. I have only begun my journey (so forgive me if I gain a few pounds over the next couple of months)
This week my mother was here to visit me from Denmark, and I really wanted to give her the best impression of London at Christmas time. One thing you need to know about London in December is, that it is very very busy. This means that you have to be really good at planning in advance, if you want the best of the city
Brown's Hotel is beautifully decorated! The pale blue presents everywhere looked amazing – and if you haven't guessed it yet, they come from one of my favourite stores Smythson 
After thorough investigation of where to go for the best Afternoon Tea, my mother and I decided for the beautiful Brown's Hotel in Mayfair. This hotel has a fascinating history and has hosted many distinguished guests since it opened as London's first ever hotel in 1837.
I love how everything in here is so elegant! We got the best treatment I could dream of (but not one of the pale blue presents, that I adore so much)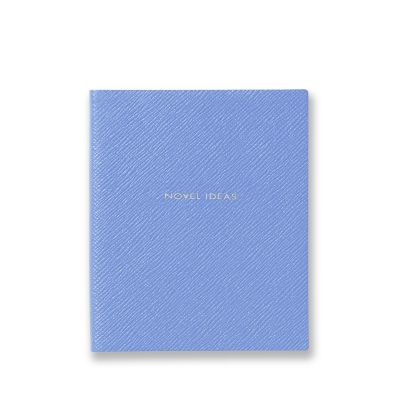 This is one of the beautiful little Smythson lambskin notebooks, that I will be searching for under the Christmas trees! 
The Afternoon Tea is served in The English Tea Room. It actually was awarded a Highly Commended certificate at the Afternoon Tea Awards 2016 in recognition of its outstanding quality. I love the sophisticated and stylish interior, which is a clever mix of old and new. Here you will find original wood paneling, fire places and Jacobean detailed plaster ceiling and contemporary style, with Paul Smith lighting, fashionable fabrics and original artworks.
My mother enjoyed the sounds from the Baby Grand Piano
All set and ready!
The menu card offers two kinds of Afternoon Teas. We went for the Festive Afternoon Tea (in the spirit of Christmas) You can choose between 17 teas, including Brown's own blend – and trust me, you will never leave this place hungry, as the Afternoon Tea is continuously replenished at no additional charge.
First we were served the most amazing little cup of mulled wine!
… And then it was time for tea! I had a lovely pot of Blackcurrant and Hibiscus fruit infusion tea and my mother went for Brown's Afternoon Blend 
The first served Savoury:
Honey-roast Ham and Piccalilli on Tomato Bread

Burford Brown Egg, Salad Cream, Smoked Paprika and Cos Lettuce on White Bread

Cucumber, Cream Cheese and Celery Salt on Malt Bread

Smoked Salmon, Pickled Fennel, Capers and Dill on a Bagel

Brie de Meaux, Chilli Jam and Sliced Chestnuts on a Tomato Foccaccia

Turkey, Stuffing, Cranberry Sauce and Watercress on a Brown Roll 
Everything was so delicious, so I had to order more (But remember it is free of charge!)
Intermezzo: A beautiful little glass of yummy eggnog with vanilla flavour 
Literally in tea heaven…
The second served savoury:
Freshly Baked Plain and Fruit Scones with Homemade Strawberry Jam and Clotted Cream
Lime mousse with Caramelized Banana and Crunchy White Chocolate Base
Chocolate, Caramel and Mandarin Tart
Coffee and Pecan Opera Cake
Pumpkin and Ginger Eclair
Baked Apple and Cinnamon Cheesecake
Lets just say, that there wasn't room for dinner that evening!
Bubbles and pastries everywhere you look! This is such a stylish place – and the waiters were very warm and took good care of us
At the end of out festive meal, we were given a nice little present on behalf of the Hotel (I love this idea!) 
Inside the present there was a lovely ball with Christmas yummies (that Frenchie ate with great pleasure, as I certainly didn't have room for more in my tummy!) 
My mother and I had such a great time at Brown's Hotel! It really was a sanctuary away from all the busy Christmas shopping – this is a place to relax, enjoy lovely tunes from the piano and best of all – amazing food and tea! If you have any tips or ideas to other Afternoon Tea treats in London, please leave a comment below (I always love hearing from you guys!)
X Louise